The Family of Richard Harkin and Harriet Andrews
Richard Harkin was born to Daniel Harkin and Jane Stevens on January 20, 1873. Harriet, daughter of Alfred Andrews and Mary Ann MacDonald, was born October 14, 1876. Richard and Harriet were married October 27, 1896. During his short life, Richard worked as a cheesemaker along the South National River. He then farmed Lot 3, Concession 14. He did plumbing work as well.
Richard and Harriet had ten children:
1. Alfred Daniel (born: May 23, 1898) married Rose O'Byrne on April 18, 1922 in Curran, Ontario. In 1923 Alfred and Rose went to farm in western Canada, where they spend three summers and two winters (Stanley, their son was born in Regina, Saskatchewan). Alfred then resumed his trade as cheesemaker, a trade which he practised for forty years at various places which included St. Eugene, Rockland, Thurso, as well as in the counties of Glengarry, Stormont and Dundas. Rose died in July 1977; Alfred died November 7, 1999.
2. Minnie Isabel (born: December 20, 1899) married Earl McGowan and moved to the USA. After Earl's death, Minnie returned to Fournier, Ontario, where she had a house built at the west end of the Village
3. Newark Dougal (born October 18, 1901) married Stella in February 16, 1961. In his early years, Dougal was a banker. After his father's death, he came home to care for his Mother on the farm. Like his father, he too did plumbing work. Dougal put some of his ingenuity to work. Back in the 1930's, when winter roads were virtually impassable, he fashioned snowmobiles by modifying Model "A" Fords. His first one was sold to Dr. MacIntosh of Riceville; his second one was bought by Dr. Auger who was then residing in Fournier, while the third one was sold to someone living in the north. To facilitate the work on the farm, he converted a Dodge truck into a tractor. His creative talents were numerous, to mention a few, he created a treadmill for pumping water, utilizing dogs, bulls or horses; there was no electricity at that time in Fournier; he made a pesticide sprayer for potatoes, operated mechanically rather than by hand pumping; he devised a food trough for feeding pigs, avoiding spillage of food; he hand fabricated miniature parts for repairing clocks.
When the farm was sold, Dougal moved to the village with his mother where he continued his plumbing business. He was however, always exploring latest ideas. In the 1970's, he built a solar collector, reducing his heating bill by 55%. His next endeavour was again in the field of transportation. He fashioned 12 penny farthing bicycles from various odds and ends. He was never able to master the vehicle.
Stella, his wife taught 35 years in elementary schools in the area. She retired from teaching in 1975. In 1990 Dougal & Stella sold their home in Fournier and moved to Hawkesbury.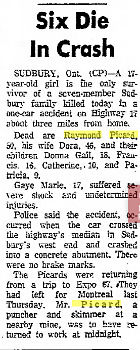 Richard and Harriett's youngest daughter Dora Winnifred Harkin married Raymond Picard. They had five children. The entire family, with the exception of Gay Marie (2nd child), died in a traffic accident in Sudbury, Ontario in 1967.