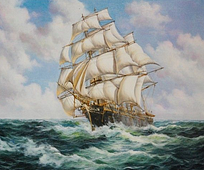 An 18th Century Brig
Newark Andrews purchased the John as a replacement for the Indiana following its loss on the Gunfleet Sands at Shoeburyness in December 1818. The John was a brig of similar size to the Indiana and would appear to have spent most it's life transporting cargo from London to Rotterdam.
The entries in the Lloyds Register of Shipping for 1820, record that it was built in Hull, Yorkshire in 1805 and was a vessel of 150 tonnes, so capable of a slightly larger load than the Indiana. It is trading between London and Rotterdam and was last surveyed in 1818, presumably in preparation for its sale. The classification E1 indicates that whilst it is a vessel of 2nd class, it has been kept in perfect repair and that at the time of the survey, no defects were apparent. The vessel is considered to be wholly capable of carrying a dry cargo with safety (classification E).
The materials that the vessel is made of, are considered to be well found and this is indicated by the designation 1. The letters SDB written in the tonnage column, denote that it is a single deck vessel with beams. She was sheathed in 1816 (s16 in the first column). The sheathing would almost certainly have been in wood. If it had been in copper, the listing designation would have been s.C. rather than just, s.
Reference has been made elsewhere to the day book maintained by Thomas Andrews, which commences in 1816, in which he recorded all manner of information relating to his daily dealings, including copies of letters and bills of exchange drawn. In the case of the John this is extremely helpful, as other than the official listing in the Lloyds Register of Shipping, there is very little other information which has come to light. There have been no newspaper reports of comings and goings found to date but frequently coastal trading colliers were not specifically noted in the newspapers. Thanks to the day book, we know how much was paid, when it was acquired and from whom, together with some of the trading undertaken.
The following bill of exchange is recorded in Thomas's day book and confirms that the first payment for the vessel was made on 29th January 1819, with a bill due at 6 month hence, a quite normal manner of conducting business at the time. The bill is payable to Mr. W.O Padley whom the Lloyds Register for 1820 records as the Master of the vessel but presumably with some share of ownership. The owner is stated as 'Standring' although it isn't apparent as to whether this is an individual, or a company.
The total purchase price amounts to £1,405-12s-6d, the equivalent today of around £140,000. (Source: Bank of England) The transaction is in three instalments, with an initial deposit of £737-10-0 and two subsequent instalments of £330 and £338-2-6d which were paid in 1825. These 2 later payments were made to a Mr John Hair junior, who is presumably the other co-owner.
£737-10s-0d Newcastle, 29th January 1819
Six months after date pay to the order Mr W O Padley
Seven hundred and thirty seven pounds 10/- value received in purchase of the John
Messrs. Herring & Richardson
Copthall Buildings
Throgmorton Street, London signed Newark Andrews
The record of change of ownership shows in the Lloyds Register of 1821. The vessel is listed as, 'ex Sunderland' and instead of the year built, it shows the age, i.e. 15 years. The owner is now, Newark Andrews and the Master is presumably one of Newark's nephews, either John or Newark Burnickel, the same as with the Indiana. Both the tonnage and the draught of the vessel have altered slightly but at this time, these were more estimates than precise measurements and sometimes do appear to vary very slightly between publication years.
The entry in the register for 1822 is largely unchanged, except that the vessel would appear to have been re-surveyed in 1820, perhaps at the behest of Newark as a condition of purchase but nothing else has changed.
During 1822, several voyages are made as evidenced by the several bills of exchange drawn in favour of Newark Andrews all referencing Value received by freight of coals ex the ship John.. I believe that these bills represent the net financial result of each voyage after the supplier of the coal and possibly, other overheads have been paid.
£66-9-4 London 19th June 1822 Messrs. T& J. Nicholson, Jansen & Co. Bankers, London
£62-12-11 London 13th July 1822 Messrs. Frys & Chapman, Bankers
£28-7-0 Exeter 30th October 1822 Messrs. Hankey & Co. Bankers, London
£17-0-0 Exeter 20thOctober 1822 Messrs. Hankey & Co. Bankers, London
£30-0-0 Durham 30th October 1822 Messrs. Hankey & Co. Bankers, London
How profitable was this trade?
At this time coal was bought and sold by the Chauldron (Chaldren, or Charder) which was an English measure of dry volume, mostly used for coal; the word itself being an obsolete spelling of cauldron. It was not a standardized measure, and there were many different regional chauldrons, the two most important being the Newcastle and London ones. It ceased to be used as a unit of measure in 1835, when it was stipulated that coal must be sold by weight.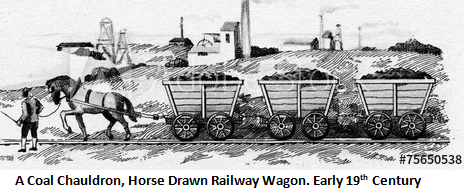 The Newcastle chauldron (2.65 English tons) was used to measure all coal shipped from Northumberland and Durham, and the London chauldron (1.4 English tons) became the standard measure for coal in the east and south of England.
From the figures in the Day Book it is possible by simple calculation, to observe the profitability of the trade. Thomas records some average price information from which can be deduced that he would purchase say, 56 Newcastle chauldrons of coal at 32/- (£1.60) per chauldron and sell it as 107 London chauldrons, at £1-8s-6d (£1.43) per chauldron. These volumes equate to the payload of the ship of 150 tonnes.
So, the coal costs him in the region of £90 (56x£1.60) and he sells it for around £153 (107x£1.43) - a profit of, £63 (£7,500 at 2020 values) roughly the average value of all the bills of exchange that he recorded.
The bank would finance the trade from beginning to end, via accepted bills at future date/forward credits, if the coal supplier required cash immediately, then he may have sold the bill at discount, otherwise he would simply hold it until maturity, when it would be presented for payment by his bank. Port taxes would be paid in a similar manner, with seamen's wages, paid in cash at the end of the voyage. In his day book, Thomas writes:
"Eight shillings and sixpence freight per chauldron for coal to London, will about defray the expenses of the voyage."
The figures quoted above include this allowance for the expenses of the voyage, (excepting insurance and wear and tear) and so the payments made, appear to fairly represent an indication of the profitability of the trade, although without any actual accounts to confirm it, we cannot be 100% certain.
Thus it would appear that shipping coals from Newcastle to London was quite a profitable enterprise. In 1823 he made eight voyages and received payments totalling £510 and in 1824 he made ten voyages totalling £600. That is an average annual income in the region of £60/70k at today's values.
Whilst the Lloyds register entries indicate trade between London and Rotterdam, the entries in his day book indicate the trade to be between Newcastle and London. As no newspaper reports of ship arrivals and departures have come to light, in respect of the John, to date, then the actuality cannot be certain.
In 1823, whilst the Lloyds Shipowners register states that the vessel still has a classification of E1, the underwriters register states E2.
The figure 9, under the classification indicates that a further survey was carried out in the previous September, i.e. September 1822.The downgrading of the condition classification is significant as it means that the ship is suffering from wear and tear and that the construction materials are now considered to be, 'indifferently found' and not, 'well found'. However there are a further eight voyages during 1823, before repairs are finally undertaken through the winter of 1823/24, other than a new sail being required in July at a cost of £2-17s-0d plus ten shillings to make, as evidenced by this entry in the day book.
July 5th New Lower Studding Sail 57 yds. No. 5 at 1/- 2-17-0
To Making do 0-10-0
Bills of Exchange recorded in 1823, relative to the John
£83-8-1 London, 10th January 1823 Messrs. Veres & Co. Bankers
£59-6-9 London 17th Mar 1823 Messrs. T & S Nicholson, Jansen & Co. Bankers, London
£61-17-0 London 20th March 1823 Messrs. T & S Aitchison & Co. Bankers
£57-1-1 London May 10th 1823 Messrs. T & S Nicholson, Jansen & Co. Bankers, London
£52-17-5 London June 17th 1823 ditto
£70-2-8 London July 22nd 1823 ditto
£60-12-2 London 15th Sept 1823 ditto
£67-0-0 London 11th Oct 1823 ditto
During the winter the ship was laid up and repairs amounting to over £40 were undertaken, equivalent to £5,000 at 2020 values. A detailed account of the expenditure is contained in the day book but the work carried out included, a replacement mast, new sails, ropes and bowspritt and a new pump.
The Registers at the Lloyds Registry at this time were produced in two types; the Ship Owners register and the Underwriters register and it would appear that the information stated is not always in complete agreement as shown here for 1824. Several elements do not agree, including the standard of the ship, the date of the last survey, its tonnage, depth of draught and even the spelling of the name of the Master! Clearly some of these are minor issues but others are not and I have no idea for the reason for it.

Throughout 1824 a further ten voyages are undertaken producing total income in excess of £600. (£73,000 at 2020 values) certainly more than covering the cost of the ship repairs.
£50-0-3 London 3rd Jan1824 Messrs. Brown, Johnson & Co, Bankers, London
£87-0-5 London 2nd Feb 1824 Messrs. Fry & Chapman, Bankers
£64-4-1 London 2nd Mar 1824 Ditto
£69-16-5 Hamburgh, 10th Apr 1824 Messrs. Douglas, Anderson & Co. London
£29-12-1 London 12th May 1824 Messrs. Hankey & Co. Bankers, London
£72-15-0 London 15th June 1824 Messrs. Fry & Chapman, Bankers
£43-15-10 London 30th July 1824 Messrs. Hankey & Co. Bankers, London
£83-3-0 London 2nd Oct 1824 Messrs. Lees Brassey & Co. 71, Lombard St. London
£61.18.0 London 1st Nov 1824 Ditto
£43-10-11 London 2nd Dec 1824 Messrs. Barclay & Co. Lombard Street, London
Although the Master of the John continues to be recorded as Burnickle, the two letters below, indicates that a Mr. Joseph Reed is now the Master.
To: Mr Jos. Reed Haltwhistle, 8th December 1824
Sir,
I was glad to hear from your letter of 6th Inst. of your safe arrival at South. Shields. I will not be able to see you this voyage, therefore I wish you not to get any stores or necessaries for the Ship but what cannot absolutely be done without, you may do well enough without an anchor this time as you have two. inclose the voyage account & send it to me to this place, it is in Northumberland a little more to the West of Hexham. I wish you a safe and speedy return.
Yours respectfully,
Thos. Andrews
Followed by:
To: Mr Jos. Reed Haltwhistle, 21st December 1824
I received your letter of 17th Inst. informing me of your safe arrival after a fine passage, you may well suppose it give me great pleasure, this season of the year the weather is so very uncertain, that I always feel anxiety when I know you are at sea. From the newspaper account, for it is the only medium I hear news through, relative to shipping in this part, at Sunderland there are great numbers laid up for the winter, more than for some years past. I am undecided in what way I will do with the John, when you arrive at Shields, but should there not be a letter to meet you at Shields from me to direct you how to act upon your arrival there, you will apply to Mr Blackbird at Newcastle. I will make known to him my intentions. I have nothing further to say but to wish you a safe return.
Yours respectfully,
Thos. Andrews
It seems likely that the death of his father in April 1824 and quite possibly, following a period of infirmity leading up to his death, together with the necessity of sorting out his father's affairs subsequently, has given rise to the lack of shipping activity during 1824. The only evidence of a voyage being the following bill of exchange, as a result of the voyage referred to in the letters above. Thomas is clearly uncertain what to do with the ship in the future. Having been close to his father for many years, has he lost the confidence to continue with the shipping business on his own? Whilst clearly profitable, it is certainly not without risks, which Thomas, as a meticulous and careful individual, maybe unwilling, or even, unable to face alone?
£48-10-7 London 31st December 1824 Messrs. Hankey & Co. Bankers, London
In January 1825, the following letter to one of his property tenants, indicates that Thomas is occupied working about the ship but the only bills of exchange drawn subsequently, relate to the final two instalments in the purchase agreement for the ship.
So it would appear that the ship undertook no further voyages.
Mr John Liddle Haltwhistle, 1st January 1825
I was apprehensive of damage being done by the late floods, from the swelling of the water in the Tyne for the Tyne in different parts overflowed its natural boundary. I have not heard of any very material damage done. JT thinks (?) the Wear has a greater fall. You seem to express a wish for me to come over. I at present cannot conveniently do so being engaged on busying about the ship but at the same time I wish you to not neglect doing……
The final two payments in respect of the purchase of the ship are as follows:
£330-- Newcastle 29th January 1825
Six months after date pay to the Order of Mr John Hair Junr. Three Hundred and thirty pounds for value received in second payment of the John.
To: Mr James Davidson
Bricklayer John Hair
Newcastle
£338-2-6 Newcastle 25th January 1825
Nine months after date pay to the order of Mr John Hair junr. The sum of Three Hundred & Thirty eight two shillings sixpence for value received in the last payment of the John.
To Mr James Davidson (signed) John Hair
Bricklayer
Newcastle
The following years Lloyds Registry entries are somewhat contradictory as they disagree about the current state of the ship and as to whether it is in condition E1, or E2 and it isn't until 1829 that the survey of 1825 is entered up.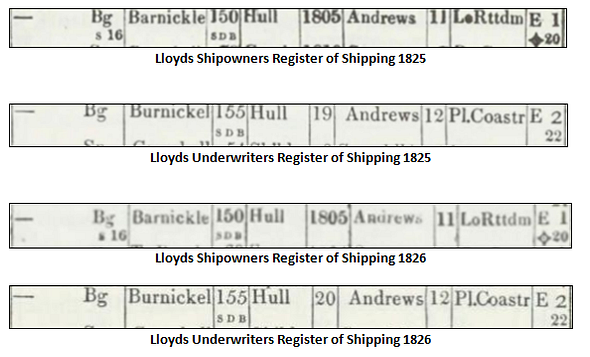 The meaning of the star by the date of the survey of 1820 is unknown, other than it might signify that there has been a downgrading in the condition classification.

The final year the vessel is recorded in the Lloyds register is 1833 but from 1831 the letters, 'Co', are entered in the column which usually contains the voyage information. It isn't known specifically what this is an abbreviation for but the ship is presumably laid up requiring further repairs, which Thomas, for whatever reason, is reluctant to carry out. Co, could of course signify that the ship is in such a poor state of repair, that it has been condemned.
There are of course other things going on in Thomas's life at this time. In 1822 he fathered an illegitimate child, William Mirley; a child he openly acknowledged and who is mentioned in his Will. So, he may be taking up his time. His father died in 1824 as already mentioned and he has two farms quite some distance apart from each other, together with other property investments to oversee. He may also be pursuing a courtship at this time, with Isabella Todd, whom he marries in 1830. Following his marriage, children arrive and he forms a growing religious interest before taking his first Holy Communion in the Catholic Church in 1834.
Thomas is indeed, living a full life, which entails an amount of travelling, either by horse or coach, in order to manage it all properly. It would also appear that a number of his property tenants are tardy in paying their rent and require constant chasing and time consuming visits.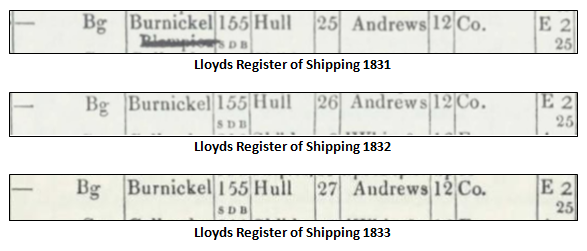 There are no further entries in his Day book in connection with the ship and no indication as to how it was disposed of. For our branch of the Andrews family, it is the end of our shipping interests.